Singapore International
Mathematics Olympiad 2003
(Note: When you click on the Message Board and you get a message saying some sort of a CGI error, just Hit the Back Button and Click on the link again. Should not take you more than 5 tries. If it does, tell me. I have just started to tweak the system. Hopefully will be ok real soon.... so till then, please bear with it. Thank you very much, and enjoy the Forum. =) Shangyi)
Important Notice
The training this week has CHANGED LOCATION!!! Instead of going to S14, 03-01, go to S4A 03-03/04. The map is below: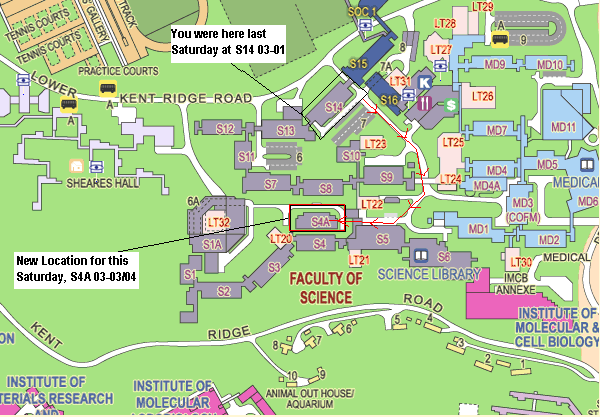 Resources 2003
Resources 2002
Will you believe it or not.... an update?!? Anyway, SIMO Training has started, and will be on every Saturday from 18th January onwards, 0930 - 1300, at Mathematics Studio S14, 03-01
I will post the problems from the Holiday Training here soon...
Last Updated: 19th January 2003, 1900
Thanks for dropping by the site...
I am still updating / revamping the website...
Please kindly give me your suggestions here. You will be credited...